For your enjoyment, The Dukecast Episode One: Hopefully Not a Menace
Posted by Royale H. Duke on 3 December, 2013 at 00:27AM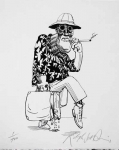 In the First ever Episode of the DukeCast, I talk about XCOM vs XCOM, South Park, and of course the new generation of consoles. I also lament at the lack of other people on this podcast.

Next Week: PC Games and hardware, The Wii U, and Zelda: A Link Between Worlds and more!
This was the first time I ever did a podcast, hopefully I can get things a bit tighter next time.
Enjoy guys! I should have my next article up tomorrow sometime, so stay tuned for more contributions from my fellow Editors and myself!
Want to be in the podcast? Let me know! Guest spots are open and waiting.
Intro Music: Cybernetic Synths
Composed by: Royale H. Duke
Artist: Royale H. Duke
Sound Mastering: Royale H. Duke
Track created in Garageband