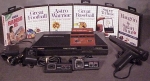 So here we go. The most nostalgic console for me.
Yes, more than the NES.
My older brother had an NES and a Master System when I was growing up. His selection of NES games wasn't all that... Impressive? Hell, I can barely remember what he had for it.
But that Master System I remember.