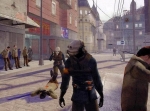 It's been a helluva year, fellas. From meager beginnings, missed updates, support from friends and a glorious rise.
What's to come in the year ahead? I dunno, but I'll tell you what's to come next paragraph!
Ladies, Gentlemen, and ladies dressed like men, I proudly present a one year anniversary article; Half-Life 2.