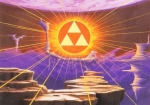 In a realm beyond sight,
The sky shines gold, not blue.
There, the Triforce's might
Makes mortal dreams come true.

Here at Retro of the Week, we talk about retro games a lot, but why do we yearn for these titles so? Is it simply nostalgia? Some of my earliest memories include playing video games on my dad's NES. One title that always stuck out to me was The Legend of Zelda. To my young mind, it probably had more to do with the slick golden cartridge than anything else, but though I didn't really get how to play, I did enjoy swinging that sweet, sweet sword-gun.
Press the fast forward button on your VCR and set the clock to the 90s, when the Super Nintendo Entertainment System was king. When I got The Legend of Zelda: A Link to the Past, memories of that older game came flooding back, and I knew this would be the start of a whole new era for me.